When shopping for new replacement windows, a lot more comes into play than how they look. As technology advances, windows are becoming integral to your home's functionality. Outdated windows can result in energy loss, fading carpets and furniture, and give home intruders an easy entry point. High-quality vinyl windows solve these problems and much more! This article will explain the different packages we offer, the optional upgrades, and their individual features.
Our Different Glass Packages
Anlin Sun Matrix
The Anlin Sun Matrix glass package is perfect for homes in warm and hot climates. It features an internal 4-Layer Low-E coating system. During summer, they deliver optimal solar performance to keep the heat out. On those cold winter days, the advanced coating system will reflect the heat back inside, keeping your home warm. It exceeds Energy Star requirements in all climate zones in the United States. Combined with the QuadraTherm coating, it results in the best U-Factor and Solar Hear Gain values. Here are some of the window's features:
Block 99% of the sun's UV rays
Four layers of low emissivity (Low-E) coating
Excellent solar protection
Ideal for warm to hot climates
Anlin Plus Easy Clean Coating included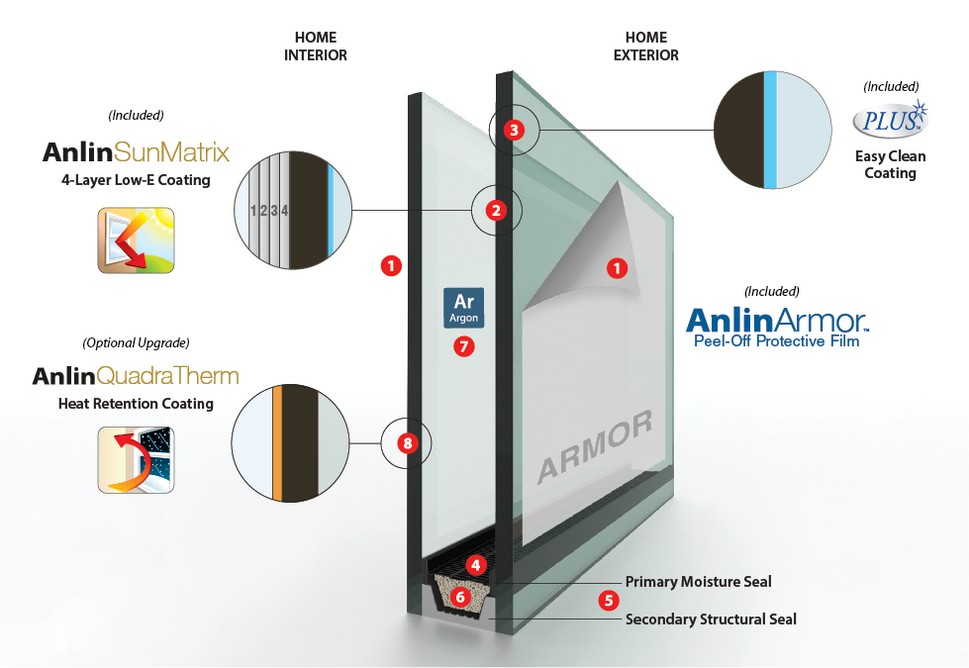 Anlin Infinit-E
The Infinit-E glass package will benefit your home no matter what type of climate you live in. It includes a triple layer energy-efficient coating that blocks UV rays and the sun's heat during the summer and reflects the heat back into your home during the winter. These windows balance high visibility with excellent solar control. Here are some of their features:
Ideal for all climates
Blocks 95% of the UV rays
Includes triple-layer energy-efficient coating
Provides excellent solar protection while allowing in a high amount of visible light
Includes Anlin Plus Easy Clean Coating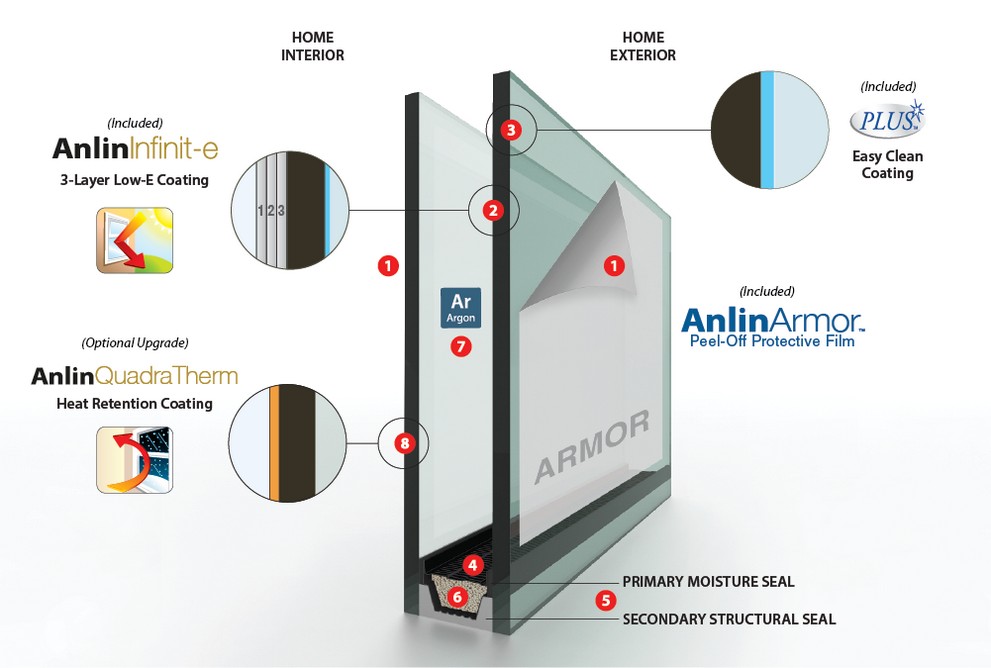 Anlin Sun Shield
The Sun Shield glass package is ideal for homes in extremely warm and hot climates. Their tinted triple energy-efficient coating reflects the sun's heat away from the home and significantly reduces solar heat gain. It also provides glare control and reduces indoor heat loss during the cold winter days. Here are some of the window's features:
 Blocks 98% of UV rays
Provides maximum solar protection against sun exposure and extreme temperatures
Ideal for hot climates
Triple-layer energy-efficient coating
Provides anti-glare protection with its blue/gray tint
Includes Anlin Plus Easy Clean Coating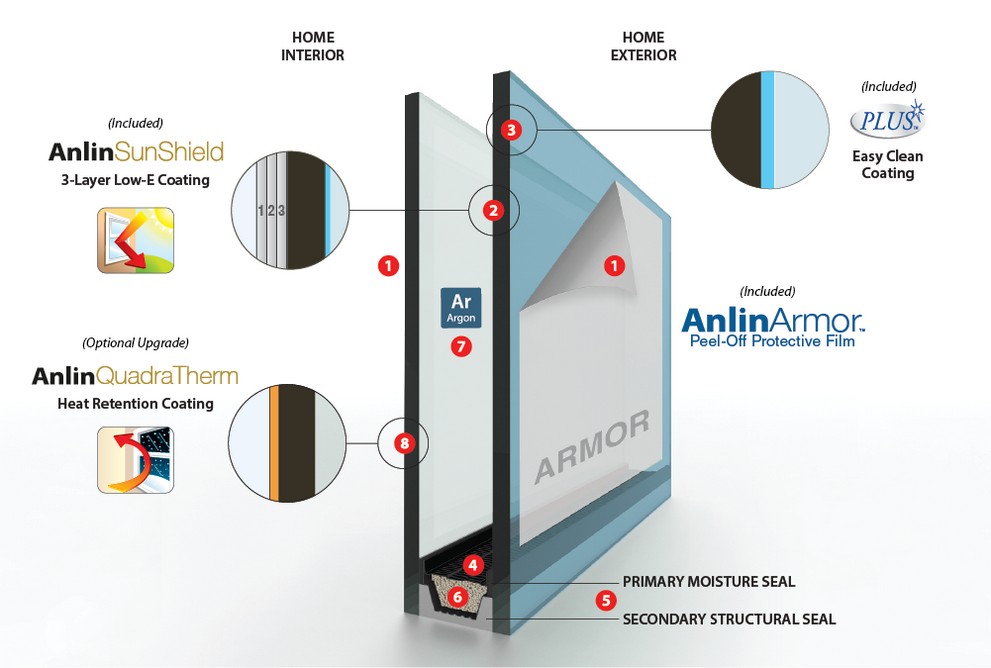 Additional Window Upgrades
Anlin Sound Package
The Anlin Sound Package provides windows with sound suppression technology to greatly reduce outdoor noise from traveling into your home. The glass panes are of different thicknesses, which breaks down sound waves, making your home substantially quieter. They can reduce unwanted noise by up to 50%! This optional upgrade can be added to any Anlin glass packages and is perfect for windows throughout your home or windows facing the street or other sources of noise.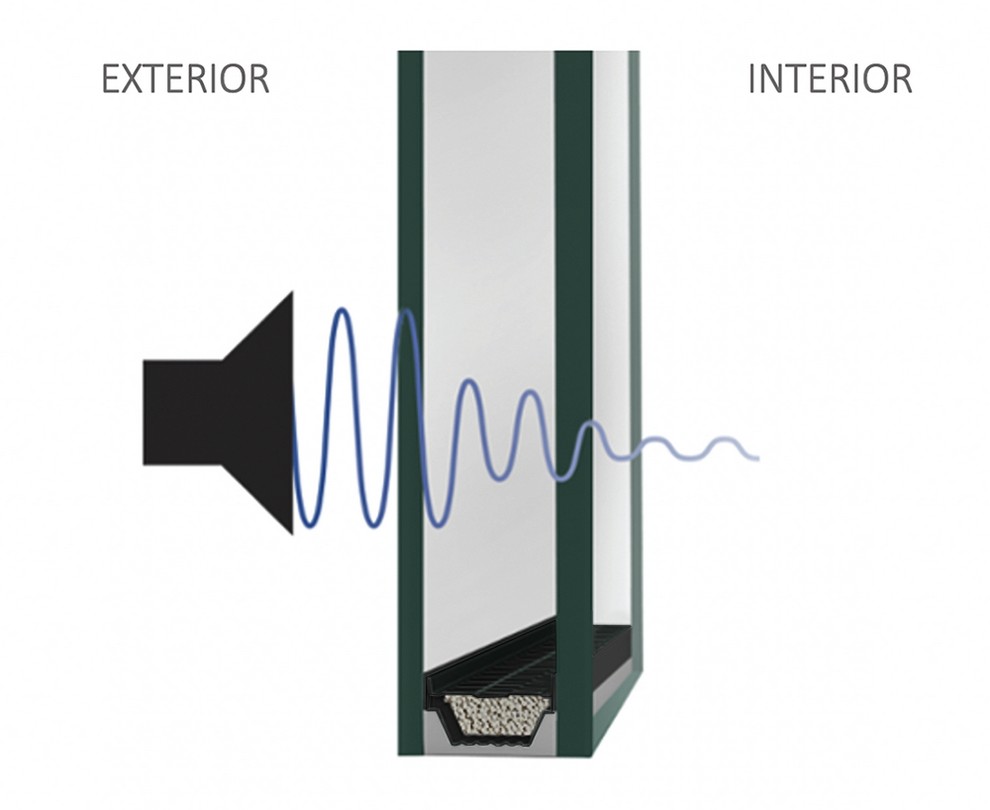 Anlin QuadraTherm
Anlin QuadraTherm provides windows with maximum thermal insulation and reflects heat back into the home. This keeps the inside of the house warm when it's cold outdoors. Argon Gas between the glass panes even further improves thermal performance and helps you save on heating costs every month. The QuadraTherm optional upgrade can combine with any of Anlin's glass packages.
Anlin PLUS Easy Clean Coating
The new and improved PLUS Easy Clean Coating added to the glass exterior breaks down greenhouse gases like methane and other pollutants. This advanced coating harnesses UV rays to break down dirt, making windows easy to clean. Windows will dry three times faster and have fewer visible water spots compared to uncoated glass. Anlin PLUS Easy Clean Coating is available on all Anlin glass packages.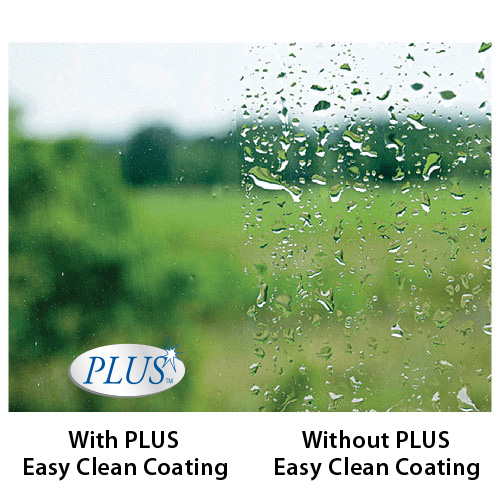 Tempered Glass
Anlin's 4X Tempered Safety Glass is a great way to add safety and security to your home! They are up to four times stronger than standard glass, and if broken, will break into small safe pieces. You'll rest easy knowing your windows come with additional strength and safety! To learn more, check out our blog about them.
Laminated
The Anlin First Guard Laminated Security Glass is an incredible safety glass package. If broken, the glass will attach to a plastic film inserted between the panes instead of falling to the floor. Even when broken, the interlayer keeps the glass bonded together, so you don't have sharp glass pieces lying around. To learn more, you can check out our blog about Anlin's laminated glass.
American Deluxe Is Here to Help
When it comes to windows, know that American Deluxe gives you options! Whether you want to increase security, keep your home warm during winter, or prevent furniture fading, we've got the glass package for you! If you are unsure which package is best for you or have any questions, we are happy to help! You can reach us at (818) 561-8191 or contact us directly on our website.