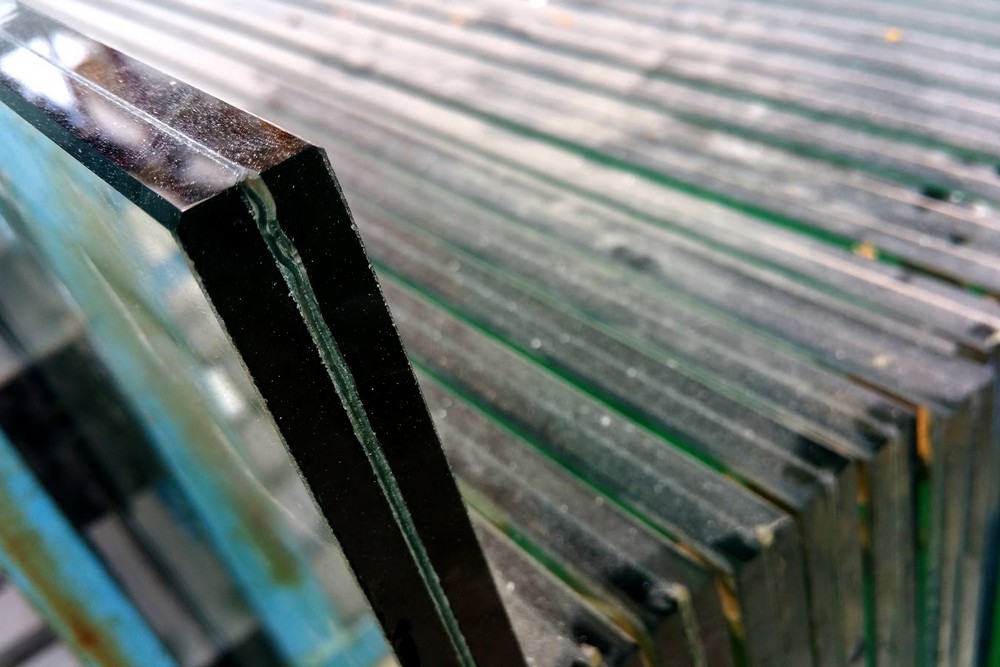 Glass is glass; it's all the same, right? It turns out, glass can be manufactured in a variety of ways to provide different benefits. In this blog, we're going to focus on a specific type of safety glass. As you may have guessed from the title, we're going over laminated glass. This type of glass is more common than you may realize; you may encounter it every day! We'll go over the characteristics of laminated glass, why it's considered a safety glass, and why it may be a good idea to have in your home.
What is Laminated Glass?
Laminated glass is made of two or more annealed glass panes held together by a plastic layer, typically made of polyvinyl butyral (PVB). You can think of it as a sandwich. The glass panes are the bread, and the plastic is the ingredients. When the glass is broken, instead of the glass falling to the floor, it attaches to the plastic. This is why it's considered safety glass; the interlayer keeps the layers of glass bonded together even when broken, so you don't have sharp shards of glass lying around.
Where is it Used?
You may have seen laminated glass in action when driving behind a car that kicks up a rock at your windshield. Laminated glass will produce the "spider web" cracking pattern if the force isn't strong enough to pierce the glass. This type of glass is used wherever there is a possibility of human impact or if it could fall onto someone if shattered. This includes:
Skylights
Car windshields
Glass floors
Exterior storefront windows in geographic areas where hurricanes are present
The laminated glass includes other benefits aside from its safety application. It helps screen out UV radiation and is beneficial in soundproofing.
Anlin Laminated Glass
We understand that some buyers may want to add laminated glass to their replacement windows and patio doors to keep their families safe. For this reason, Anlin offers the FG1233 Laminated Security Glass as an optional upgrade. Anlin's laminated glass meets rigorous industry codes that include the American Society of Testing Materials standard to prevent forced entry. You can add this upgrade to your Catalina, Panoramic, Coronado, and Malibu Series. If you want to learn more about Anlin Windows and their 5-star difference, you can set up an appointment for a free in-home consultation.

Our Advice
Choosing to upgrade to laminated glass windows mainly depends on the location of the window. If your home has a skylight or window that is in close proximity to people, we recommend upgrading the glass. For example, patio doors can make prime targets for your young ones to catapult baseballs or other objects into accidentally. Plus, we've all experienced cleaning up broken glass in our home, only to discover we missed a piece or two by unintentionally stepping on it later that day. Laminated glass will help prevent sharp glass from shooting across your home and endangering your young ones and pets when accidentally broken. Another added safety benefit is that the glass is incredibly difficult to break, which will sway home intruders and burglars from entering. If you want to upgrade or have any questions, give us a call at (818) 561-8191 or contact us on our website.