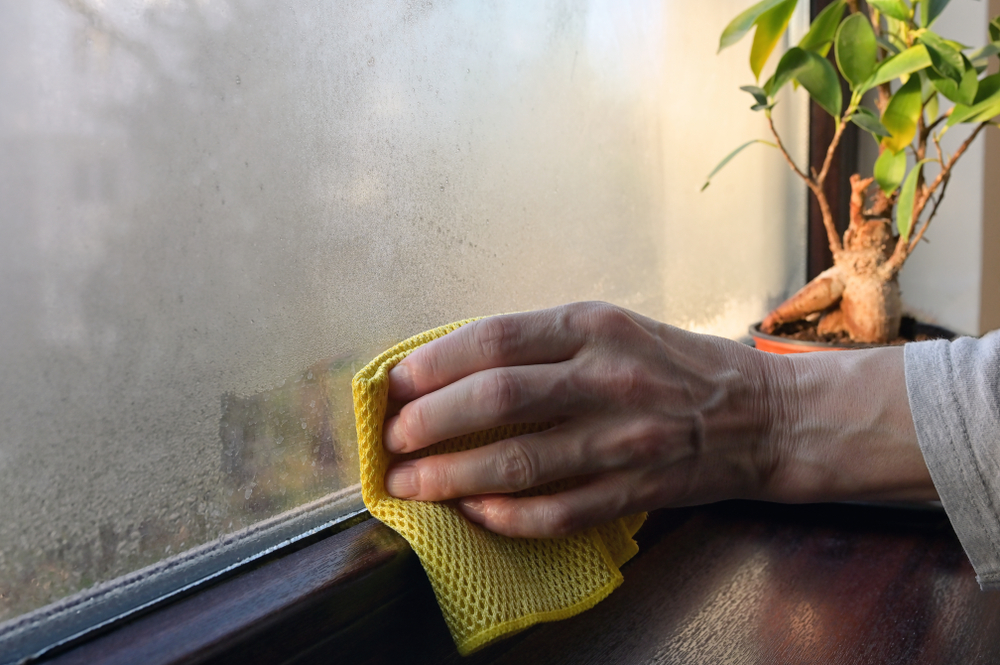 Window condensation is very common. Just remember the time when you woke up in the morning and checked your window for a view of the outdoors. And instead of the unobstructed view, you noticed the glass was covered in condensation. While many times it's a normal occurrence, there are times when it's a sign of a window problem as well. So how do you distinguish between the two situations, so you know when you need to take action? Read on to learn about window condensation, what's normal and what isn't.
What Is Window Condensation?
To begin understanding condensation, let's start with what it is and why we sometimes see it on our windows. Window condensation is when moisture in the air collects on a surface in small water droplets. On house windows, this can be particularly noticeable, as the condensation fogs up the glass and obscures your view.
Condensation collects on window surfaces when there's a difference in temperatures between the inside and outside of your home. Warm air has more humidity in it, while cool air does not hold as much moisture. Oftentimes when the moisture in the warm air comes in contact with the cooler surface of the window, condensation happens because the moisture will collect on the window surface.
Condensation can form on either side of your window. Where the moisture accumulates depends on the temperature inside and outside your home. For instance, on a cold winter day, you're likely to be heating your home inside. The warmer air inside the house may form condensation on the inside of your window as it hits the cold surface of the window. Likewise, on a hot summer day when it's warm out, and the air conditioning is cooling your home, condensation from the outdoors may accumulate on the outside of your windows.
Typically, this condensation will eventually evaporate, leaving you with a clear view through your windows again. In these situations, whether the condensation formed on the inside or outside of your windows, it's nothing to be concerned about. It's a natural occurrence that doesn't indicate anything about the window itself.
When Condensation Is Not a Normal Occurrence
While the situations we just described are normal and nothing to worry about, there are some instances of window condensation that are not normal. The most obvious example is the condensation that develops between the panes of glass in your windows. The space between panes of glass is typically filled with an inert argon gas that provides an insulating layer for your home. This space is completely sealed to keep the inert gas in and everything else out. Therefore, condensation that forms between the panes is a sign that the window's seal has failed. Your window is no longer performing at its best when it comes to energy efficiency.
If condensation stays on your windows for extended periods of time, say throughout an entire day, this is also a sign that the window has failed. Normal condensation will appear and disappear throughout the day as the weather and temperatures fluctuate. A stale or moldy smell around your windows is also a sign that the condensation may be causing some water damage because it's sticking around for so long.
Reducing Window Condensation
There are some strategies you can use to reduce condensation when it's a normal occurrence. These include using a dehumidifier, increasing ventilation, and changing the air temperature inside your home. However, when window condensation is a sign of a problem with your window, your best bet is to have the window dealer that sold it to you check it out. If the house window is still under warranty, you might get it fixed for free. If not, it may be time to consider a window replacement project at your home.
To find out if it's time to replace your windows, contact American Deluxe Windows today.
When it comes to your home, your happiness is the most important thing, and we make sure your goals are met and your expectations are exceeded. If you are ready to replace your windows or upgrade your patio doors, click here for a free quote or call us at (818) 561-8191!