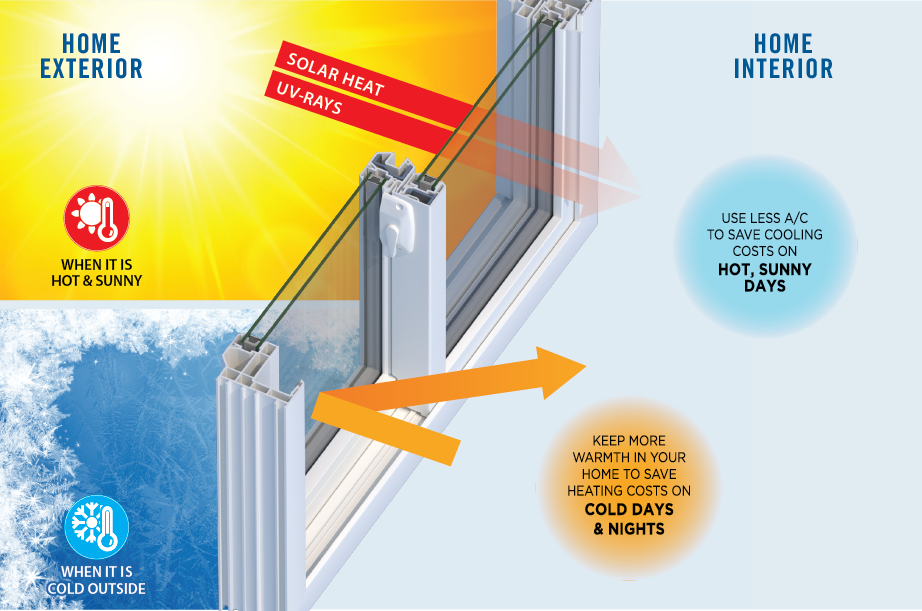 One of the main reasons we buy replacement windows if not the main reason is to increase the energy efficiency of your existing windows. You should realize that old drafty and poorly insulated windows are costing you money every month on heating or cooling cost. Unless you live in a climate that is 70 degrees year-round, you will benefit from new energy-efficient windows. But hold on a second, not all replacement windows are created equal and just buying new replacement windows without knowing what features to ask for could be costly.
Let's talk about the 5 must-have features to maximize your energy efficiency and save you lots of money over the long haul. This is how efficient windows work for you.
5 Features to Maximize Energy Efficiency of Replacement Windows:
1. Low-E – This is listed number one for a reason; it is the most important feature to increase the window's energy rating. Low-E is a reflective coating to goes on the glass inside the window.
Low-E will reflect the sun on the exterior, keeping the heat out in those summer months and reflects your interior heat into the house in the winter months, keeping your home warm. Also, Low-E keeps out harmful UV rays that fade curtains, furniture, and walls.
2. Argon Gas – It is a feature that will help maximize the energy rating. Argon is an inert gas that goes in between the glass, and what this does is it raises the R-value of the window. R-value is a measurement for insulation. If you've ever insulated a wall, there's R13, R15, R19, depending on how thick your walls are, and the Argon adds some insulating factors. A window is like a big hole in your wall with glass in it, so the more insulation you can get, the more insulating factor or R-value you can get, the better it is. Thus Argon increases that R-value. Again, it keeps the heat in or keeps the heat out, depending on what it is.
3. Another term is spacers. Spacers are a vital component of the performance of the insulated glass in your window. What these spacers do is hold and seal the double or triple pane insulated glass together. Intercept spacers reduce the condensation problems around the perimeter of the insulated glass.
4. Interlocking Meeting Rail – Now this is only for double-hung and gliding windows, but never the less is a crucial feature for your new windows. An interlocking meeting rail is where the window meets in the middle there is a channel that looks together when the window is closed. This does a tremendous job keeping out drafts and reducing condensation. This is a widespread feature, and if the window you are looking at does not have it move on to the next.
5. Weather Stripping – This is listed last, but this feature is not to be overlooked. Weatherstripping is on the front lines of defense when it comes to blocking air and water infiltration. When looking at samples of windows, you should weather stripping all around the edges of the sashes where it meets the window master frame.
Put These Features To Work For You: Now that you know 5 of the major features that will maximize the energy efficiency of replacement windows, you can make an educated decision when purchasing your new windows.
American Deluxe Windows and Doors is the best choice is you are looking for a home improvement contractor. If you have questions about your project please contact American Deluxe Windows and Doors. We are here to assist you.
Call us at 1 (818) 561-8191.