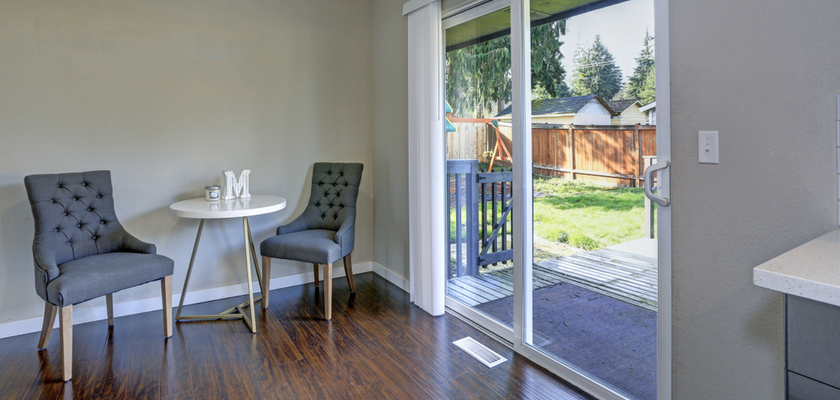 The days of flimsy patio doors are long gone. As a matter of fact, they don't even have to be sliding doors anymore. In this article, we'll show you a few patio door options. One of the significant benefits of a hinged door is energy efficiency by preventing air infiltration. With a hinged door, you can have weather stripping on all four sides of the door. That means the air is not going to seep around the door, which means we're going to have lower utility bills. Since most of the door is glass, that needs to be made energy-efficient as well. Double panes make the window much more energy-efficient. The void between the two panes is filled with argon gas instead of air. Argon gas is about twice as heavy as air, which makes it much more energy-efficient. It's hard for that outside temperature to get inside the house through that argon gas. They also put a Low-E coating on to block the sun's rays. The Low-E coating goes on the inside of the glass, so we don't rub it or scratch it off, or the kids don't, when they're pushing on the window itself. That Low-E coating will keep our carpet, our drapes, our furniture from fading from the sun's rays and block out all of that heat. Vinyl patio doors are low-maintenance, and we don't have to paint or stain it every year. You can get wood, fiberglass, or aluminum, which most of us grew up with, which is not energy efficient but very inexpensive. If you have the money, though, you can go with the wood with a vinyl cladding on the outside.
Now let's take a look at some of the decorative styles that are available. There are several different options when it comes to the look of the glass itself. It is just how much money you want to spend on the look that you want to achieve. If you decide to go for that stained glass look, there is another glass panel on the other side, so it's still a double pane window and energy-efficient. You can have a conventional style door with both sides of the French door open to the inside, but when you have a door like this, you need to watch out for your furniture inside your room and make sure that you're going to have enough room for the swing. If you have a small space, go for a sliding door, then you won't have to worry about your furniture on the inside of your home and don't limit yourself to the patio door itself. There's a lot of options around the door. You can have a patio door on one side, and the other side might look like a door, but it would be a fixed panel. You can add a transom up above. There's no limit to what you can do with the windows and the doors themselves to achieve all different types of looks. For an entirely different look, you can choose a dual sliding door that opens both directions with a fixed panel on each.
The patio door type that you choose could make a significant difference to your home in terms of lifestyle and comfort. You may even discover some opportunities to transform your home's existing areas, introducing more light, better views, and bridging the gap between your indoor and outdoor living spaces. If you are starting to think about replacement doors, renovating an existing property or building a new one contact American Deluxe Windows.
American Deluxe Windows and Doors is the best choice is you are looking for a home improvement contractor. If you have questions about your project please contact American Deluxe Windows and Doors. We are here to assist you.
Call us at 1 (818) 561-8191.