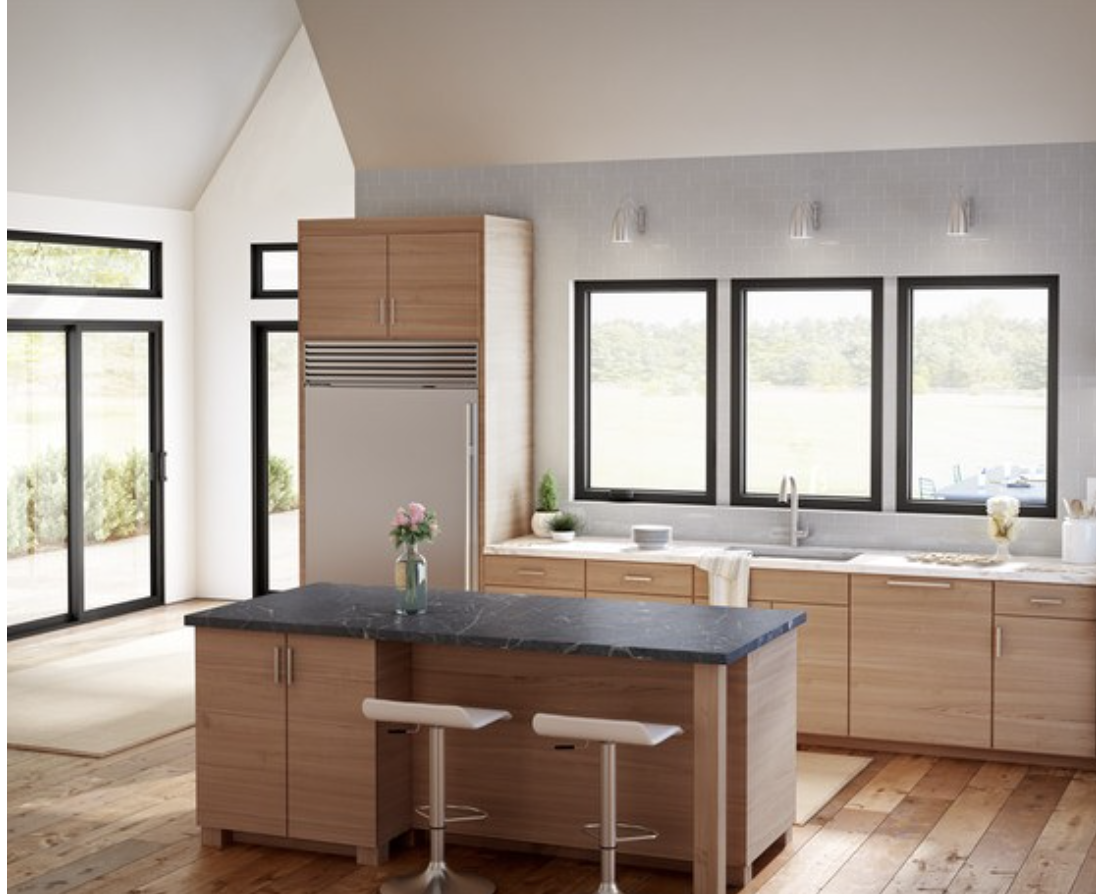 Black is not just a color; it's a statement. It's bold, it's confident, and it's incredibly versatile. At American Deluxe Windows, we understand the power of this timeless hue, and we proudly offer Milgard's Black Windows – a chic, modern solution for homeowners seeking to make a bold style statement.
Why Black Windows?
Black windows, black from the inside and outside, can add a dramatic and distinctive look to your home. They are increasingly popular in both traditional and contemporary design for their ability to create a striking contrast, drawing attention to the views and the architecture of the home.
Sophistication and Style
Milgard's Black Windows bring a touch of sophistication and a dash of mystery to any space. They provide a striking contrast that can highlight both your interior and exterior decor. The allure of black windows lies in their ability to effortlessly blend with various architectural styles, enhancing the overall aesthetic appeal of your home.
A Timeless Choice
While trends may come and go, black remains a timeless color choice. Whether your home boasts a modern, minimalist design or leans towards a more traditional style, black windows will add a layer of timeless elegance that won't fade with passing trends.
Energy Efficiency
Beyond their aesthetic appeal, Milgard's Black Windows are also designed for optimal energy efficiency. Their high-quality construction reduces heat transfer, helping to keep your home warm in the winter and cool in the summer. This not only enhances the comfort of your home but can also contribute to lower energy bills.
Choose American Deluxe Windows for Milgard Black Windows
When you choose American Deluxe Windows for your Milgard Black Windows, you're opting for a partnership with a team committed to bringing your vision to life. We're not just selling windows; we're helping you transform your home.
We understand the impact that the right windows can have on a home, and we're proud to offer Milgard's Black Windows as a stylish, modern solution. We believe in the quality and style of these windows, and we're confident that they'll add a unique, bold touch to your home.
At American Deluxe Windows, we prioritize customer satisfaction above all else. Our knowledgeable team is ready to guide you through the process, ensuring you find the perfect black windows for your home. We're here to help you understand the benefits and features of these windows, answering all your questions along the way.
Ready to make a bold style statement? Contact American Deluxe Windows today for your Milgard Black Windows. They're not just windows; they're a declaration of style and sophistication. Add a touch of drama and elegance to your home with black windows, and watch as your home becomes a beacon of stylish allure.
With American Deluxe Windows, your home's potential is limitless. So, why wait? Call us today, and let's bring your vision to life with Milgard's Black Windows. You'll be amazed at what a difference the right windows can make. Call us at (818) 561-8191 or click here for a FREE quote.