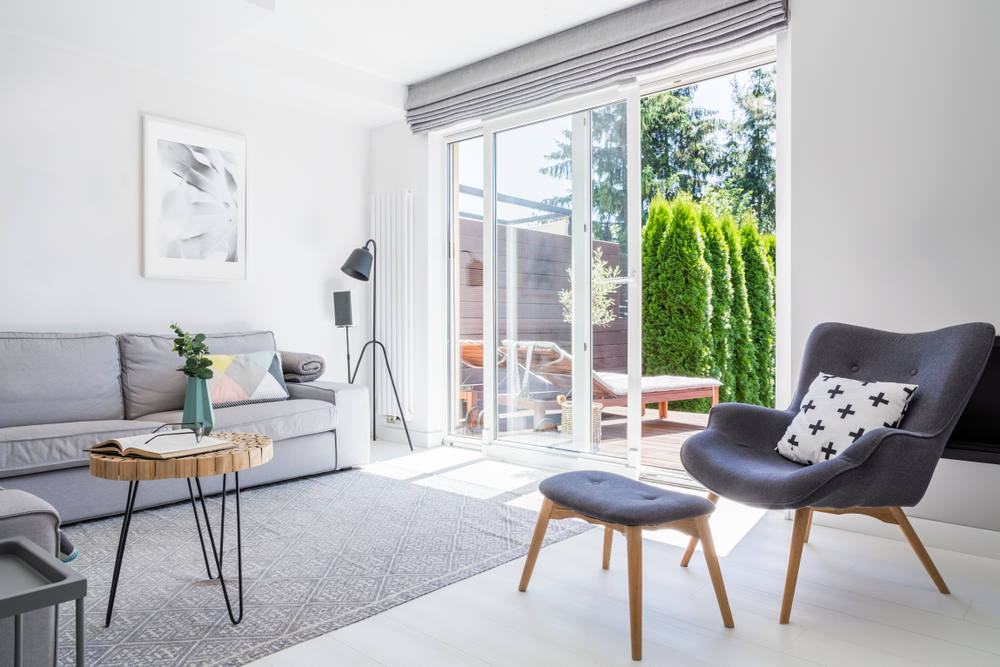 Their many designs and functional advantages make sliding doors a smart addition to your home. American Deluxe Windows & Doors wants to show you all the reasons why.
1. Energy Efficiency
When you install a sliding door, your home automatically becomes an energy-efficient home. The sliding doors act as an insulator for your home, keeping your indoor spaces warmer during the winter and cooler during the summer.
At American Deluxe Windows & Doors, we ensure all sliding patio doors are custom made to fit perfectly on your space, and they are also carefully crafted with technology that will offer optimal thermal insulation. Sliding doors have successfully proven to act as a weather and sound barrier keeping air, dust, and rain out of your home.
2. Indoor/Outdoor Flow
Smoothly go inside and out of your home. Sliding doors are easy to operate and offer a great portal between the indoors and the outdoors.
Sliding doors have large panes that offer unobstructed views all year around of your home garden and views beyond.
3. Safety and Security
Homeowners can rest assured that the safety of their homes is not compromised since, as technology advances, sliding doors have become safer. With shatterproof safety glass, you can have peace of mind.
Be sure to ask or look for tempered glass options, which, when broken, shatters into hundreds of small pieces avoiding injuries.
As you are about to invest in your brand-new sliding doors, security should be a top consideration before fully committing.
As a homeowner, you should look for sliding doors that incorporate a heavy-duty extruded frame with metal reinforced corners. Make sure that the sliding doors have passed the forced entry resistance test. Ensure that the hooks that lock the entrance are heavy-duty hardware.
For an additional layer of security you can upgrade to Anlin First Guard Laminated Security Glass, which provider a near impenetrable triple layer lamination of glass and polymer. Anlin First Guard offers greater protection from "Home Invasions," adds critical response time and stops today's "Smash and Grab" burglaries.
4. Space-saving
Sliding doors are great space savers since they glide along the track instead of swinging open. This is great since no extra space is required for the door arc, because the doors open up by one door sliding into another's panel.
5. Natural Light
Sliding doors are great at allowing extra natural light to come into your home. Extra-large panes of glass that run from top to the bottom of each door panel allow for natural light in your home to be maximized.
6. Easy Access
Sliding doors are manufactured to be easy to operate. With the use of a finger, you can glide the door open and close for a smooth and stress-free access to the outdoors and indoors when needed. Having easy access to the outdoors is especially useful during the summer.
7. Environmentally Friendly
At American Deluxe Windows & Doors we make sure we partner up with only the best manufacturers to bring you the top of the line product. The best manufacturers do not only provide a great product but also carry great warranties. On top of that they keep the environment in mind. Among other great companies we work with Anlin Windows and Doors. Anlin reclaims and reuses almost all by-products in their manufacturing process, including glass, vinyl, and shipping materials. Each year, Anlin recycles more than 600,000 pounds of vinyl and 12,000 pounds of paper!
8. Great Glazing
As a parent, sliding doors are a great tool to both relax indoors and also keep an eye out for the kids playing in the safety of your patio.
Homeowners can choose multiple glaze options for their sliding doors that will offer many benefits, such as reducing harmful UV rays.
There is also energy efficient glazing that can prevent energy loss, as well as provide better sound resistance, and reduce frost and condensation on the glass.
9. Style
Sliding doors harmonize with most, if not all, architectural styles adding to your home's elegant aesthetics. Let's not forget that sliding doors are first of all manufactured for functionality. They maximize natural light, provide unobstructed outdoor views and easy low maintenance.
Do you need a new patio door for your home? Give us a call at (818) 561-8191, or click here for a free quote!